SUSTAINABILITY AT CHIESI


Sustainability has always been a primary concern in the way Chiesi operates, and today represents a crucial element of the strategic vision of the company, which is committed to:
adopting a governance system based on transparency and responsibility;
promoting the professional and personal development of its people and their wellbeing;
protecting the planet and minimising the impacts generated by the company's activities;
finding effective solutions for patients' unmet medical needs;
serving the community and those most in need.

This is the reason why the program "We ACT - We Actively Care for Tomorrow" was born, as an expression of Chiesi's desire to take care of society and the environment in an effective way for the benefit of both stakeholders and the company.
Every year we celebrate the We ACT Day in the whole Chiesi Group: a day entirely dedicated to sustainability, in which all the people of this big family demonstrate their commitment to these topics.
This sustainability program is in line with Chiesi's values and mission to combine commitment to results with integrity, operating in a responsible manner from a social and environmental point of view.
We want to use business as a force for good and in May 2019 we became the first global pharmaceutical company to reach the B Corp certification. (Find more here about Chiesi and the B Corp certification).
We also commit to contributing to the Sustainable Development Goals (SDGs) promoted by the United Nations.
More specifically we believe we are able to take part in achieving 9 SDGs, with the skills, competences and resources we have, by developing specific Chiesi Sustainability Goals.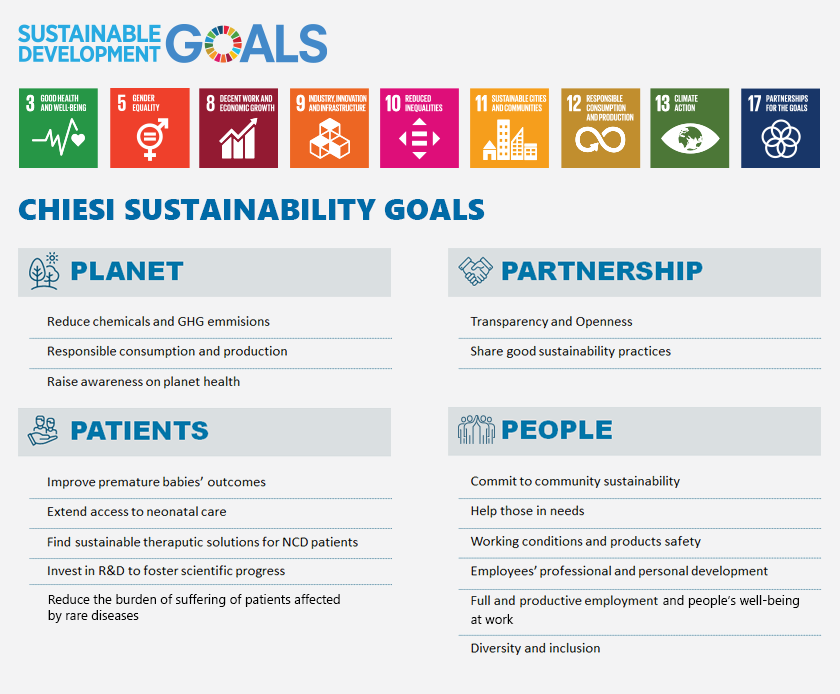 SUSTAINABILITY MANIFESTO
We live in a time of great changes. The planet is exploited beyond its limits and its equilibriums are in continuous transformation. We ourselves have changed the way we live and imagine our society. The fragile and vulnerable pay the price: those who are often left behind in this rush forward.
At Chiesi we believe it is necessary to take care of our planet and the people who inhabit it, rediscovering the value of mutual solidarity, aware that every individual, as well as every living being, is unique and irreplaceable.
This is why we want to provide the most fragile the confidence of a first-rate life science that knows how to closely listen to and understand them, as people rather than just as patients.
We want to act as a force for good, promoting a conscious and different way of doing business, with a positive impact on society and nature, treating resources in a circular way and creating a new harmony, finally sustainable. The well-being of all depends on this balance. And for us, this is the only true form of progress.
Our team of professionals works with motivation and openness as our culture teaches us, recognising the value of diversity.
Therefore Chiesi Belgium has the 'We Act' movement. This is the internal Chiesi program to roll out all B Corp related initiatives.